Abigail Pfeffer is a young and very talented American artist. Her designs 
are influenced by the finest in European tradition but they are also distinctly 
American in their appeal. She brings a young, fresh approach to the noble 
tradition of hand-painted glass ornaments.  Crafted by the best Polish artisans, 
Abigail's ornaments have met with critical approval and are fast becoming 
among the most popular ornaments among serious collectors.    
Click here to meet Abigail Peffer.  



Alice in Wonderland - Abigail's Collection ® 


Sadly these unique designs are no longer produced since 2016 
so remaining inventory is discounted while supplies last!



Carousel Animals - Royal Court Musicans - Bird Ornaments


	

TTCK-001AC
Alice in Wonderland Plate Assortment


This colorful set of plates from Lewis Carroll's Alice in Wonderland, have been created as a boxed set of 6 by artist and designer, Abigail Pfeffer. Each individual plate features a drawing of one of the major characters from this series of books: Alice, Queen of Hearts, White Rabbit, Smoking Caterpillar, Cheshire Cat and the Mad Hatter. Boxed Set of 6 Ceramic Plates Dishwasher safe - Not to be used in Microwaves 7 inches in diameter Abigail's Collection-Tannenbaum Treasures 2007 Introduction

Retired - Only One set remains in Inventory!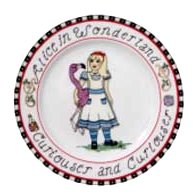 $89.95