Steiff Teddy Bears & Animals - Button in Ear

The Steiff name stands for quality and has done so for more than 120 years.  
When Margarete Steiff created her little elephant "Elefäntle" in 1880 and 
watched the felt elephant that was originally intended as a pin-cushion advance 
to become the children's favorite toy, she discovered how important good-quality, 
lovingly designed toys are for children.  Her motto above characterises the work 
of Steiff today.



"Only the best is good enough for children"



	

SB029004
Decade Teddy
Steiff PB55 - 1902


This small bear belongs to the Jahrzehnte Teddybären edition of 10 bears sitting in an exclusive wooden shelf. The edition was made to celebrate the most famous Steiff bears from ten decades from the beginning of the 1900s to the year 1999. This is the first teddy bear, the Bär 55 PB of Year 1902. Yellow tag and button in ear trademark. He is made of soft, rich, brown mohair. Brown felt pads, black stitched nose, beige mouth, black shoe button eyes and black claws. Fully jointed with white chest tag attached. Handmade in Germany by Steiff 2002-2003 Introduction 5 inches - 12,0 cm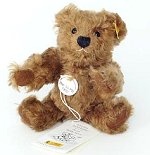 $109.95