IG20000T061
Evergreen Bell - White
Holly Boughs


Inge-glas® has always produced beautiful bells including this 2005 introduction. Exquisitely hand painted! Formerly 1-202-05 Holly Boughs Bell Made in Germany by Inge-glas® of Germany 2005 Introduction - Reintroduced 2015 3-3/4 inches - 10,0 cm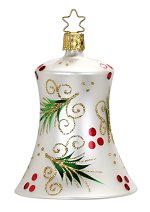 $23.95

IG3797H223
Sparkling Bells - Woodlands


Woodlands Collection

Birgit Müller-Blech, designer for Inge- Glas® of Germany, brings new ornaments to life with creativity and design, including this classic group for 2010, all decorated in rich earth tones of chesnut browns and moss greens. Available in 2 Colors: Maroon and Chestnut. Made in Neustadt, Bavaria by Inge-glas® of Germany 2010 Introduction 2-3/4 inches - 7,0 cm

Retired - Only One Remaining in Stock!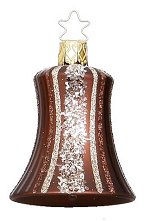 $9.95