The tradition of hand-crafted wood products from the ore mountain region (Erzgebirge) 
created by the Müller workshop goes back to the year 1899.  Ringo's grandfather, 
Edmund Oswald Müller founded the family company in the small village of Seiffen.

	

MK56118
Natural Snowman
Müller Wooden Ornament


This little snowman ornament is holding a tree in one hand and a little bird in the other! Kleinkunst as dem Erzgebirge Müller GmbH Made in Germany 8,0 cm - 3-1/8 inches

Sorry - Currently Out of Stock! Please check back with us in 2018.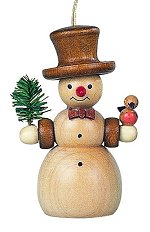 $34.95